Shespace
Spaces that work for women who work
About
Welcome to SheSpace, where we are committed to understanding the needs of women. We believe every woman deserves an inclusive and inspiring workspace that fosters meaningful connections, reduces isolation and encourages separation between professional and personal lives.
SheSpace is a work, meeting and event spaces where bold women gather to find their community, amplify their ambition and propel their dreams forward. It is a women-centered sanctuary full of powerful and passionate women who will keep you motivated, productive and while supporting your vision of success.
Where Women Work Their Way, Their Day, Every Day!
Women's coworking in Houston, TX
SheSpace's desks, spaces, conference rooms and amenities support ambitious and inspirational women, redefining how and where you work so YOU can reach your full potential.
Check out our available options:
Amenities
With membership, you'll have access to a multitude of amenities, a robust calendar of events, and overall, a group of like-minded women. We're committed to the professional and social advancement of women and are designed to influence other females in our community.







events
We're not just a functional space, but also a gathering place for boss babes.
Whether you're looking to attend an event or host your own, SHE can make it happen. We customize our space to best fit your needs.
A strong woman looks a challenge in the eye and gives it a wink.
SHESPACE TOUR – TAKE A VIRTUAL WALK THROUGH OUR HOUSTON COWORKING SPACE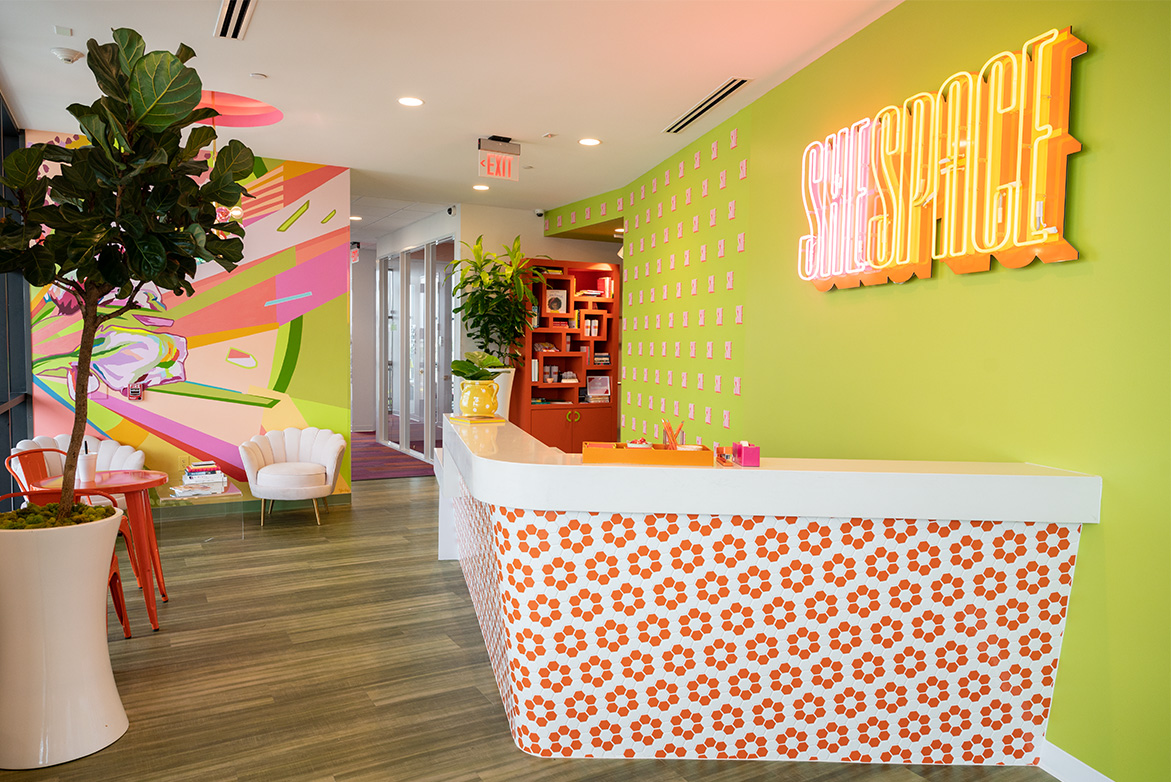 women's coworking in Houston
Dedicated Coworking & Networking Spaces
SheSpace centers around the idea that all women are part of a collective community and share more similarities than differences. Like any community, women entrepreneurs and business professionals need some place to meet and connect. SheSpace offers women in Houston, Texas a unique and energetic coworking atmosphere that's both supportive and encouraging.
We believe that women are inherently social creatures who find strength in their shared experiences. We provide the perfect environment which encourages women to be their best selves. These are the driving goals behind SheSpace.
Location
Lower Heights District
2799 Katy Freeway, Suite 250
Houston, TX 77007
Hours
Front Desk Hours
Mon 8:30a.m. – 5:00p.m.
Tues 8:30a.m. – 5:00p.m.
Wed 8:30a.m. – 5:00p.m.
Thur 8:30a.m. – 5:00p.m.
Fri 8:30a.m. – 3:00p.m.
Member Tenants enjoy extended access
7 days a week from 7:00a.m. to 11:00p.m.