SheSpeaks
At SheSpace, we're here to provide you the necessary tools to broadcast your voice.
We stay on top of trends from business to politics to whatever makes you tick. This is why we've dedicated an area of our space to podcasting. It is one of the fastest-growing content types with no signs of slowing down. More than half of the nation listens to a podcast, and this medium gives you an up-to-the-minute way to reach your audience, personalize your brand, express your best self, and of course, grow your business.
And while we specialize in strong women, our podcast studio doors are open to everyone.
If you are interested in hosting your podcast at SheSpace, contact us at 713-684-8091 or at info@shespacehtx.com.
Our podcast studio is equipped with all the recording devices and tools you will need to skyrocket to podcast fame, including inspo-inspired soundproofing, quality headphones, mics, and a soundboard. Take a pause from your day-to-day rush and book our podcast studio, which will showcase you as a subject matter expert in your domain or maybe the funniest or most inspired gal around.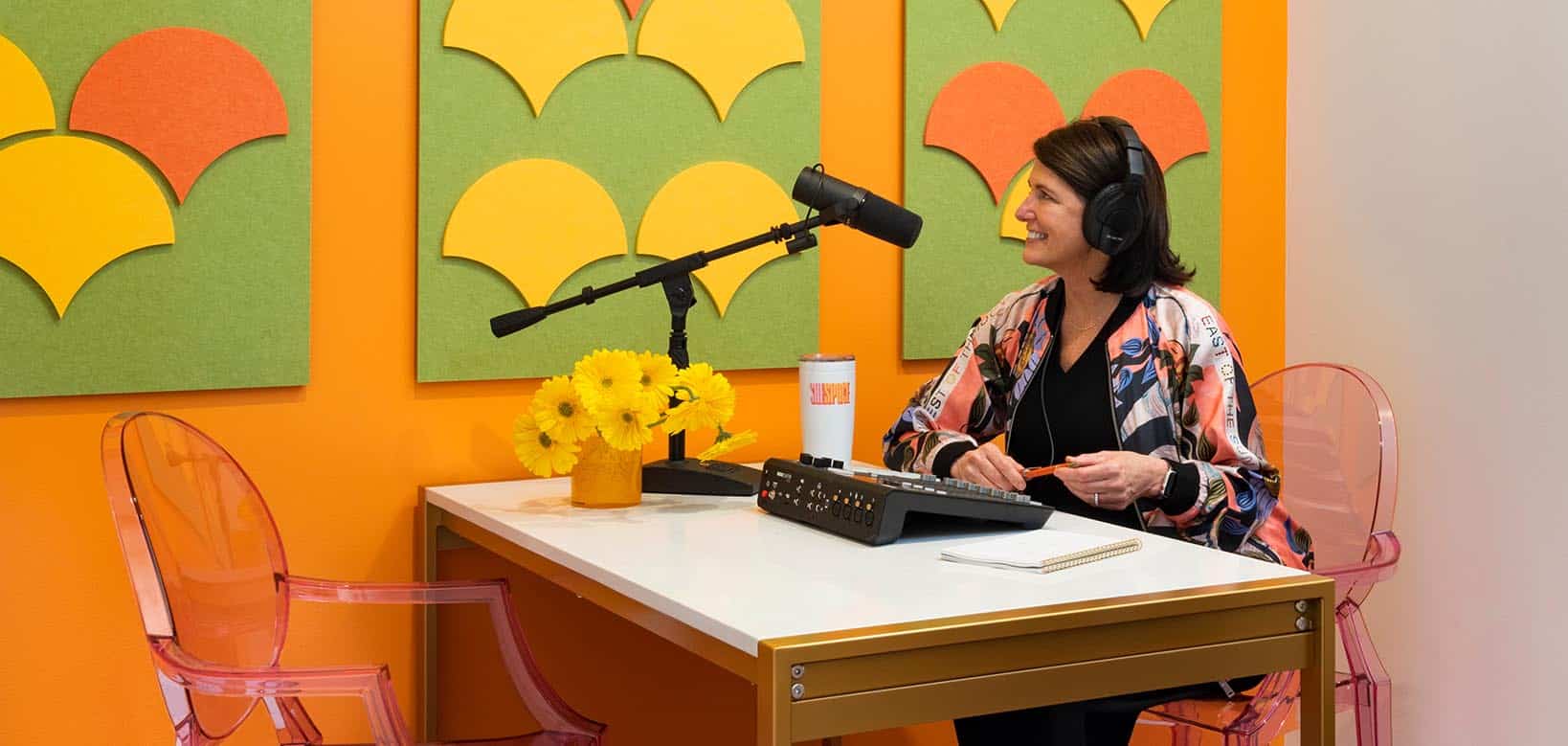 Enjoy this perk by renting the podcast studio.
Members for $40/hour. Login and reserve this room!
Non-Members for $50/hour. Call to reserve.
Is recording your podcast from your kitchen, closet or your home office becoming unmanageable because of constant interruptions from your kids, dog or delivery services? Why not check out the beautiful state-of-the-art podcast room at SheSpace?
What Is SheSpace?
We're a female-focused coworking space designed by women with the needs of professional women in mind. You can accomplish all of your work at SheSpace. We have private and shared offices and desks as well as conference and meeting rooms in our beautiful 6,000-square-foot facility.
We're proud to have the best podcast space in our neighborhood! Whether you live in the area or are visiting, if you are looking for a podcast space for rent that is close to the heart of everything happening in the city, this is it! We're close to Downtown Houston in the Lower Heights District, convenient to the Washington Corridor and Houston Heights.
Our Houston podcast space are beautifully furnished and comfortably seat you, your team and guests. (Note: We're female-focused, but not female only. Your male teammates and guests are welcome!) We also have the latest technology to help ensure that your podcast sounds great!
Here are just some of our amenities:
Female-centric events
Ongoing educational programs
Mentorship program
Lactation lounge
Female-penned book shop
Mailing address and mail services
Lockers
Coffee & tea
And much more.
Find Out More About Our Houston Podcasting Space For Rent
Give us a call at 713-684-8091 to find out about memberships, rental rates and more. You can also schedule a visit so that you can see the podcast area for yourself, along with everything else SheSpace has to offer. Make SheSpace your podcasting space in Houston!